Local Gourd Artist Designs From The Ground Up
We are proud to host the work of so many artists who use sustainable, up-cycled and organic materials in the creation of their art-to-wear fashion and accessories. In the past, we introduced you to artists like Margaret Dorfman who uses vegetable parchments as her medium for jewelry design. Today, we'd like to introduce you to local artist and designer, Mary Hegarty. Mary is a nurse at the Cleveland Clinic. On her days off, she's often in her basement studio creating fashionable and functional gourd art.
Oh My Gourd!
"I love gourds. They're very fascinating. They're the second-oldest domesticated plant in the world after the olive tree, and they last forever. The National History Museum in Cleveland has one that's 1,000 years old," Mary says.
Gourds have been used throughout history, in almost every culture throughout the world. European contact in North America found extensive gourd use, including the use of bottle gourds as birdhouses. Almost every culture had musical instruments made of gourds, including drums, stringed instruments common to Africa and wind instruments, including the nose flutes of the Pacific.
As for Mary's gourd use, she cuts, drys, cures, cleans and carves them and then paints patterns and faces transforming them into one-of-a-kind purses, birdhouses, lamps and other works of art.
"I use dried cured hard shell gourds as the medium for my artwork. They dry naturally on the vine as part of their growing / curing process. I grow a few myself , but mostly purchase them already dried from Gourd farmers."
"Dried gourds are much like wood - so the cutting and carving processes are similar.. the inside of the Gourd has to be cleaned - scraped and ground out- to remove the dried seed , pulp and mold that forms during drying."
"The shape and texture of the gourds themselves provides inspiration for me.. as well as thought about the function of a particular piece."
Art Is Made Not Manufactured
Fra Angelica Studio established its reputation as a unique Cleveland shopping destination for one-of-a-kind wearable art and accessories, but that's not even half of the story about what customers discover while shopping our collection. The truth is that there are dozens and dozens of fascinating stories that represent what we're all about and they're not our stories. We spend a great deal of time sharing the incredible and sometimes uncanny stories of the artists, materials, inspiration, and processes behind the items in our store. When it comes to artist, Mary Hegarty, we've been hard-pressed to find someone who doesn't immediately fall in love with her work especially after learning more about the medium she uses and passion she puts into her pieces.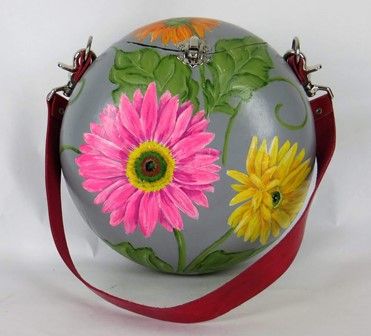 Are you looking for a one-of-a-kind Cleveland shopping experience? Fra Angelica Studio proudly carries an extensive collection stunning art-to-wear and share from dozens of talented designers just like Mary Hegarty. If you're searching for a unique gift idea for someone special or bold and beautiful designs for yourself, stop on by to try some on, learn more, or have a look.